If you are a Republican after yesterday, congratulations, you are now officially a Nazi. It's not like this came as a surprise as I have been warning people about this for years and was seen front and center at every Trump rally. The crowd was a sea of Confederate flags and poorly written hate signs. But now the GOP has officially lost the narrative and have to be seen as the new Neo-Nazi party after what can only be described as the moment the Titanic hit the iceberg at that unbelievable press conference.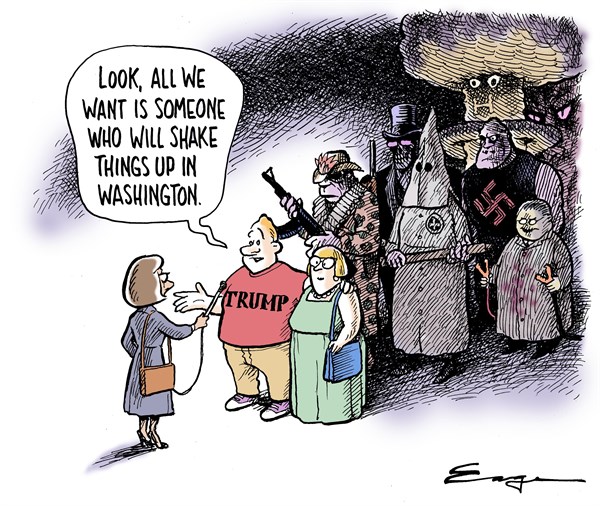 I caught it by accident. I had gone to one of my many doctors for an appointment only to discover the practice had moved and no one bothered to tell me so I was up early for no reason and went home. I got my work done early, my fiance who is usually asleep most of the day due to bad insomnia was up and we were watching the news when it said there was a press conference coming up. Excited, we patiently waited for it to start. We could not have been happier to have witnessed what came next.
Trump, in what can best be described as the mother of all fuck-ups, went rogue (possibly, but more on that later) and may have permanently damaged his career. It started like all his speeches, short on facts and big on bluster. He was touting some infrastructure executive order he signed that made it sound like he just got the next New Deal when in actuality it was yet another stick in the eye to an Obama era regulation that literally no one wanted repealed other than business developers. It no longer makes mandatory building codes to protect against sea level rise and climate change for federal buildings. Developers will save billions, everyone else if going to be paying through the nose for repairs, including taxpayers. Great negotiation again douchebag. Why can no one see what a con artist this guy is?
I loved when he pulled out this huge sheet, a flow chart of all the different committees and permits you have to get to build anything, which rolled to the ground and said this is why everything takes so long to get built, and in that area, he is not wrong. It takes way too long to get anything built in this country having to deal with local, town, city, state, and federal regulations, some of which contradict one another. My mom is seeing that first hand trying to get a deck redone on a historic site and the amount of bullshit you have to go through is mind boggling. Try building a highway and the problems are ten fold. However, that being said, Trump's EO didn't affect any of that, no matter how much he bleats about it, and instead is nothing more than a way for him to make more money. Shocker.
But all that got obliterated when he started taking questions from the press, something I have been waiting months for. I was not disappointed. He was dying for a question about infrastructure, but was instead berated with questions about Charlotteville by everyone. You could actually see the frustration building in him and I knew, absolutely KNEW, something big was coming. The same way you know a storm is about to hit or a feeling your aunt is about to call and two seconds later the phone rings, it was just like that. You could almost count down to it. And then it happened, that magic moment when you are proven RIGHT and Trump suddenly went off about Nazis being good people and the far left is every bit as bad is Nazis and the whole world spun. There is almost nothing worse he could have done unless we used the N-word in his final moments. It was truly the most spectacular thing I have EVER seen in politics. Think about it: our President self identified with Nazis and agreed with their policies.
The damage was swift and fierce. Everyone distanced themselves from Trump, but I did notice again how the GOP was not exactly totally against him either, even if a few did come out against him. This would play out more later. The nightly news played this to death and not without good reason because it is a dark day when our fucking president says that there are good Nazi's too. NO THERE ISN'T! One racist dick at the rally told a news crew that more violence was coming and now has a tear filled "leave Brittany alone" type video where this pussy is surprised he is about to be arrested for threatening violence. Incitement to riot is a crime you ass. And also kind of funny he didn't know that. You can't be an American and a Nazi. Fuck off, free speech be damned there.
The next day was even worse as Trump saw his business councils disintegrated with a rush to the door to get as far away from him as possible, the Trump brand now toxic. Who didn't see that coming? Trump tried to say it was his idea but when half your businesses leave before lunch time, including Blackstone, Walmart and JP Morgan which were widely rumored to be out the door by the end of the day, he didn't do much other than watch everyone leave. The fact that these are his alleged peers makes it even funnier. What business wants to be associated with a NAZI?
Even worse, Trump called out the Republicans to back him that the left is just as bad as the right to which even Mitch McConnell told him in no uncertain terms to shut the fuck up. Store front mannequin Mike Pence didn't get that memo as he defended what the president said, rendering him a Nazi too. Jim Inhofe tried to get the topic back to tax reform somehow not aware this is a little more pressing. Anyone voting for this dick is a fucking fascist and should be treated as such.
We do not need to resort to violence to solve this problem. Internet justice is doing just fine identifying these assholes and getting them fired from their jobs. I said this before but there is a reason the KKK wore white sheet to hide their identity. In Boston this week, a group of Nazis are coming (yes I know they call themselves something else but a Nazi is a Nazi) and please do not show up with hammers and clubs because that is not going to solve anything. You only need to two things, a camera and a funny sign. The camera to take pictures of every asshole in there and figuring out who they are. Although again make sure the person you identify is the right one as a few have been misidentified and that isn't cool because no one who isn't a Nazi wants to be called one erroneously. As for the sign, make it demeaning like "All Nazis have small dicks," or "Nazis are secretly gay." That will piss them off far more than anything else and you won't get arrested for it. Don't let this get violent even though I understand why. The fact of the matter is, violence is probably going to get worse and that won't be good for anyone because that will play right into Trump's hands. We can still stop this and beat the Nazi without weapons.
There is a theory out there that Rachel Maddow had that none of this was an accident, that people in the White House, including the president are actually Nazi, racist bastards. There is the possibility that is true and Trump did use the word "us" when referring to the alt-right at one point so there is that. He certainly acts like someone who believes this racist nonsense.
The alt left is not as bad as Nazis, sorry. While BLM is responsible for a lot of the racism growing in the nation and is labeled a terrorist group in Russia and maybe France, they are not even in the same league as Nazis. To equate both is disingenuous at best. BLM has lost the narrative and are seen by many in the white community as a hate group, even if they really aren't. Racism in the white community is happening because of BLM defending EVERY black person as if race is always a factor which it isn't. The white supremacist movement saw Trayvon Martin and Mike Brown for what they were, thugs that got what they should have. They also talk about Tamir Rice but that for me is not so much a race issue as bad policing and parenting. But Martin and Brown were made into martyrs when in reality they should have been treated as criminals. They saw the MSM as conspiring against them and in this case, they were not wrong. Someone is trying to create a narrative that black people are dying in mass numbers from white people but there is no evidence that is happening while the opposite is growing. The elites want us to fight among each other because if we ever stopped and started seeing that people like Trump and Pelosi are the real enemies of the state, this country might burn.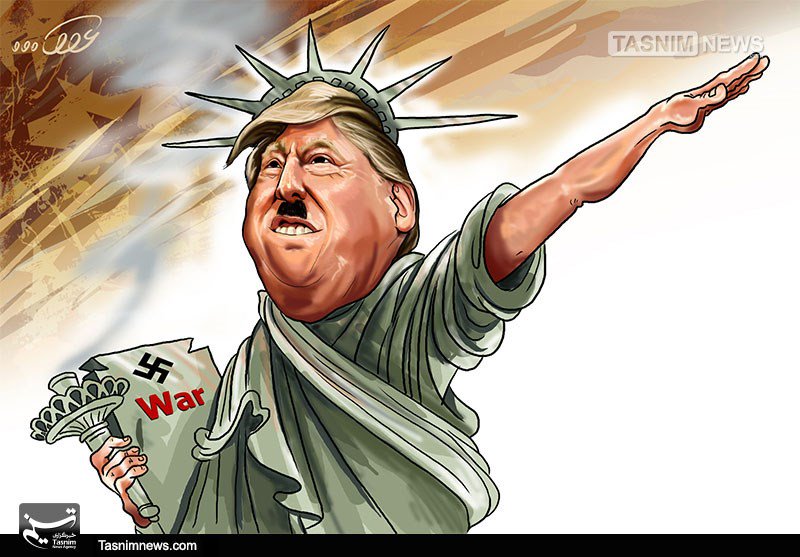 Racism is here and it's coming from all sides now. Black people hate whites and now the reverse is coming to fruition which means if you are black it might be a death sentence. Check out jury rates of acquittals of white defendants versus black ones and the numbers are staggering. And all of this is within the last few years. White people are starting to HATE black people which is in large part because of the obvious racism within the black community. Call people racist long enough and they will be. I still don't get the hate to Jews thing however. Why is that still a thing? Are Jews taking people's jobs, ruining their neighborhoods, crossing the border illegally? I don't agree with any of that for any race but I least I get where the racists are coming from. Being anti-Jew literally makes you a card carrying Nazi. WTF?
We cannot fall into this trap which let's face it is probably too late. Black people will continue to demonize whites, including two dark skinned idiots actually agreeing with Trump about statues of Washington and Jefferson on CNN today calling them "symbols of oppression." Good luck getting rid of those statues anytime soon. If we don't step back from the brink, none of us are going to be happy living under the rule of our new fuhrer, Donald Trump. Don't think it can't happen because that is what many said about Hitler. He was down and out a few times in his life before he came roaring back bigger and better.
If you are a Republican, you now belong to the Nazi party. There is no distancing yourself from this. Sorry, it doesn't work that way. Your party has been hijacked by the far right. Everyone should treat you as such. Fascism cannot arrive at these shores. For now, it can be peaceful but we are coming dangerously close to a time when that may not be possible and then we are all in big, big trouble.